If you love the look of fresh flowers but don't have the time or energy to maintain them, artificial flower arrangements may be the perfect solution for you. Check out these 10 stunning ideas to add a touch of beauty and color to your home without the hassle of watering and pruning.
Rustic Mixed Wildflower Bouquet
Create a charming and rustic atmosphere in your home with a wildflower bouquet made from artificial flowers. This artificial arrangement is a mix of different types of wildflowers, berries and greenery in a ball mason jar. This arrangement is perfect for a farmhouse-style kitchen or dining room.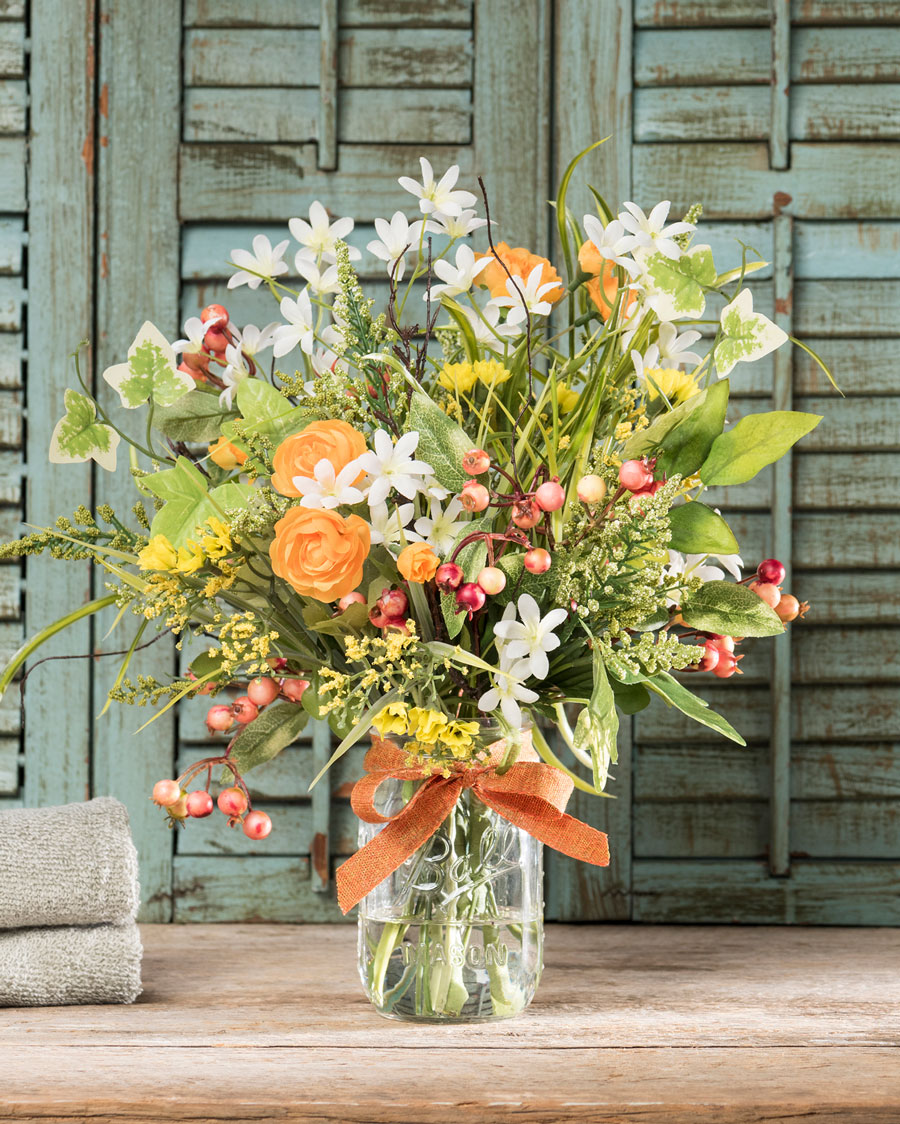 Mixed Wildflowers Silk Flower Arrangement - $79
Modern Succulent Garden
Succulents are a popular choice for those who want to add a touch of modernity to their home decor. Create a stunning succulent garden using artificial plants that require no maintenance. This succulent planter contains a variety of different colors and textures arranged in a sleek and modern black planter. This arrangement is perfect for a minimalist living room or office space.
Classic Roses Arrangement
A classic rose arrangement is a timeless and elegant addition to any home. Choose high-quality artificial roses in a color that complements your decor, such as coral, mauve lavender, pink, white, red, tropicana or yellow. This arrangement of roses comes in a clear vase with crystal clear acrylic water which captures the full bloom beauty of the roses for a lifetime. This classic rose nosegay artificial arrangement is perfect for a dining table or as a focal point in a living room.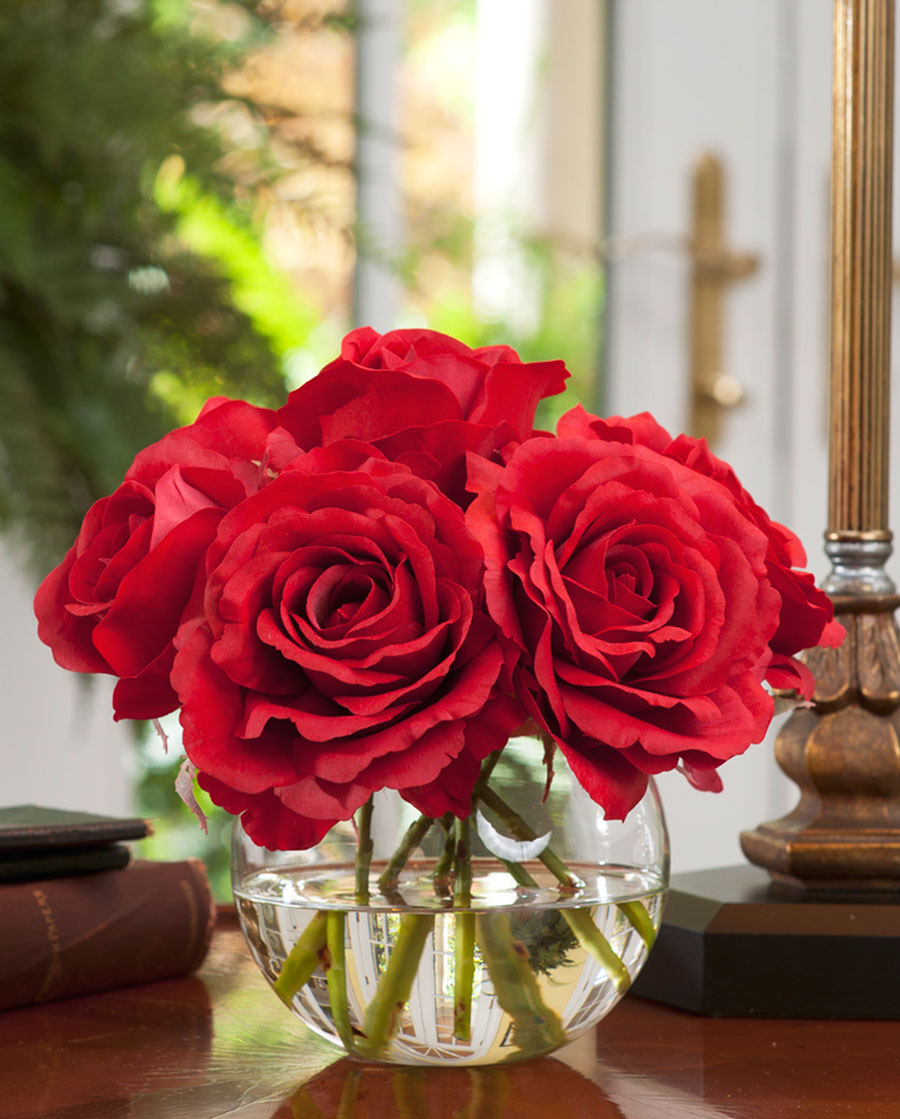 Rose Nosegay Silk Flower Arrangement - $89
Vibrant Tropical Arrangement
Bring a touch of the tropics into your home with a vibrant artificial flower arrangement. The stunning bright and bold flowers of bird of paradise, ginger, protea and orchids mixed with some greenery and tropical leaves for added texture and depth. This arrangement is perfect for a summer party or as a statement piece in a bedroom or bathroom.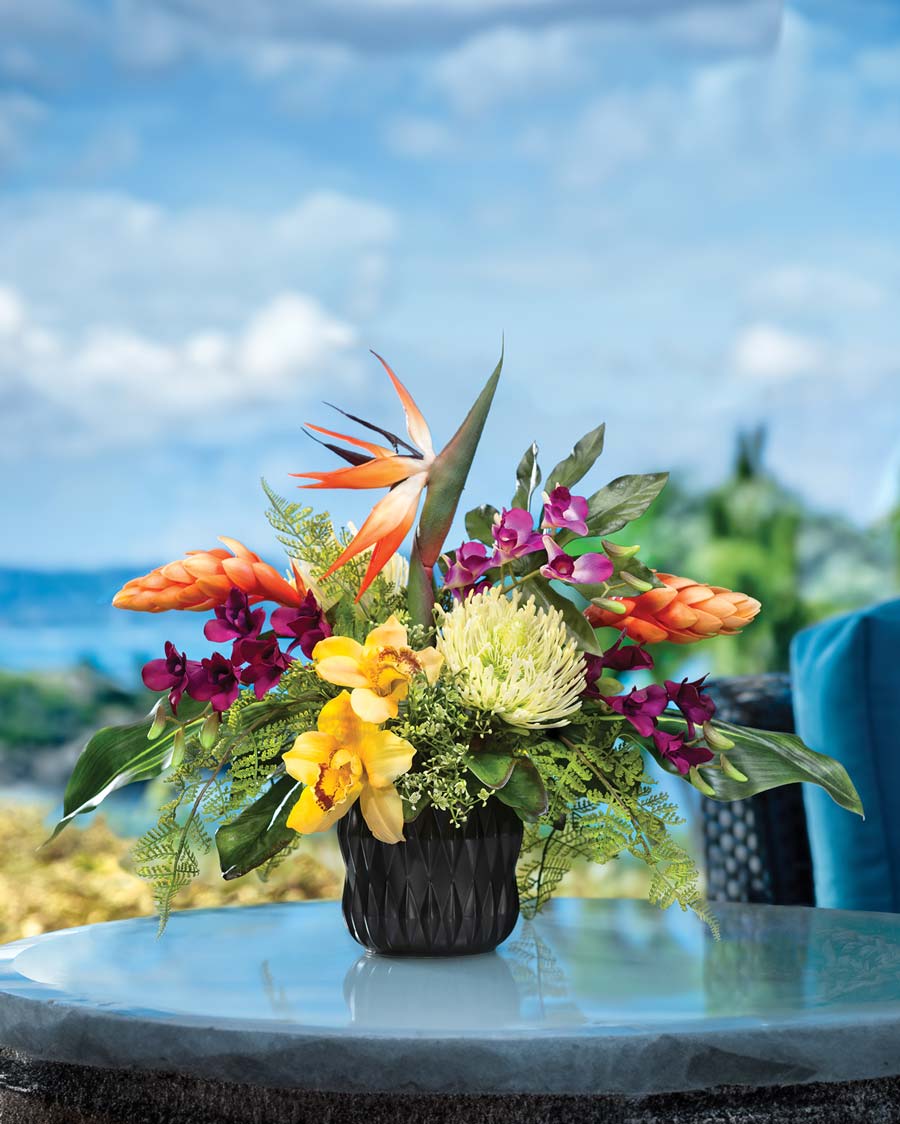 Colorful Hydrangea, Peony & Daisy Arrangement
A stunning way to welcome guests into your home with an elegant hydrangea, peony and daisy arrangement. Perfect to display in an entryway or on a coffee table with artificial flowers in shades of pink, purple, yellow and white arranged in a whitewashed embossed cement pot for a classic and timeless look. This arrangement is perfect for a romantic dinner or as a beautiful addition to your living room decor.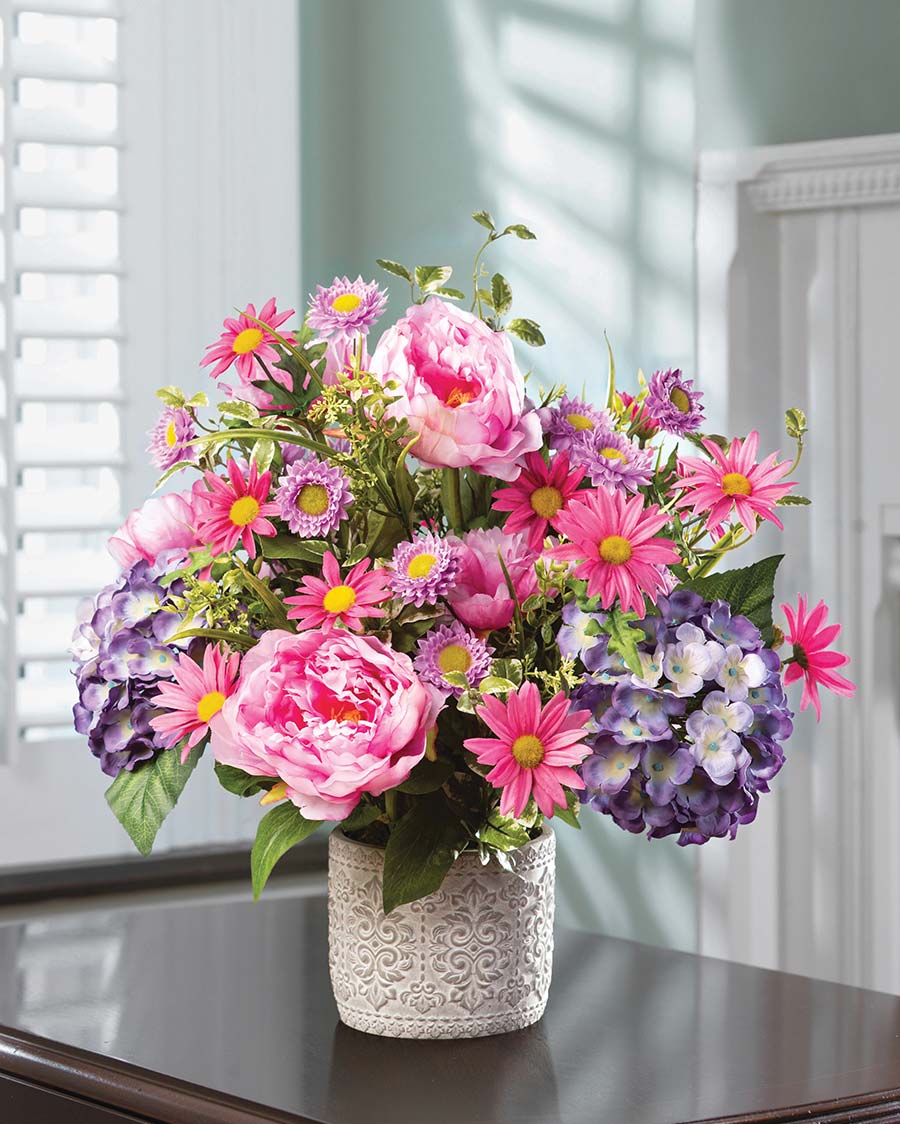 Peony, Hydrangea & Daisy Silk Flower Arrangement - $169
Vibrant Sunflower Centerpiece
Bring the warmth and cheerfulness of summer into your home and enjoy all year long with a vibrant sunflower centerpiece. A unique mix of artificial sunflowers in different sizes and shades of yellow with some greenery creates a full and lush arrangement. This centerpiece comes arranged in a clear square vase with river stones and our crystal clear acrylic faux water for a charming and cheerful addition to your dining table or living room.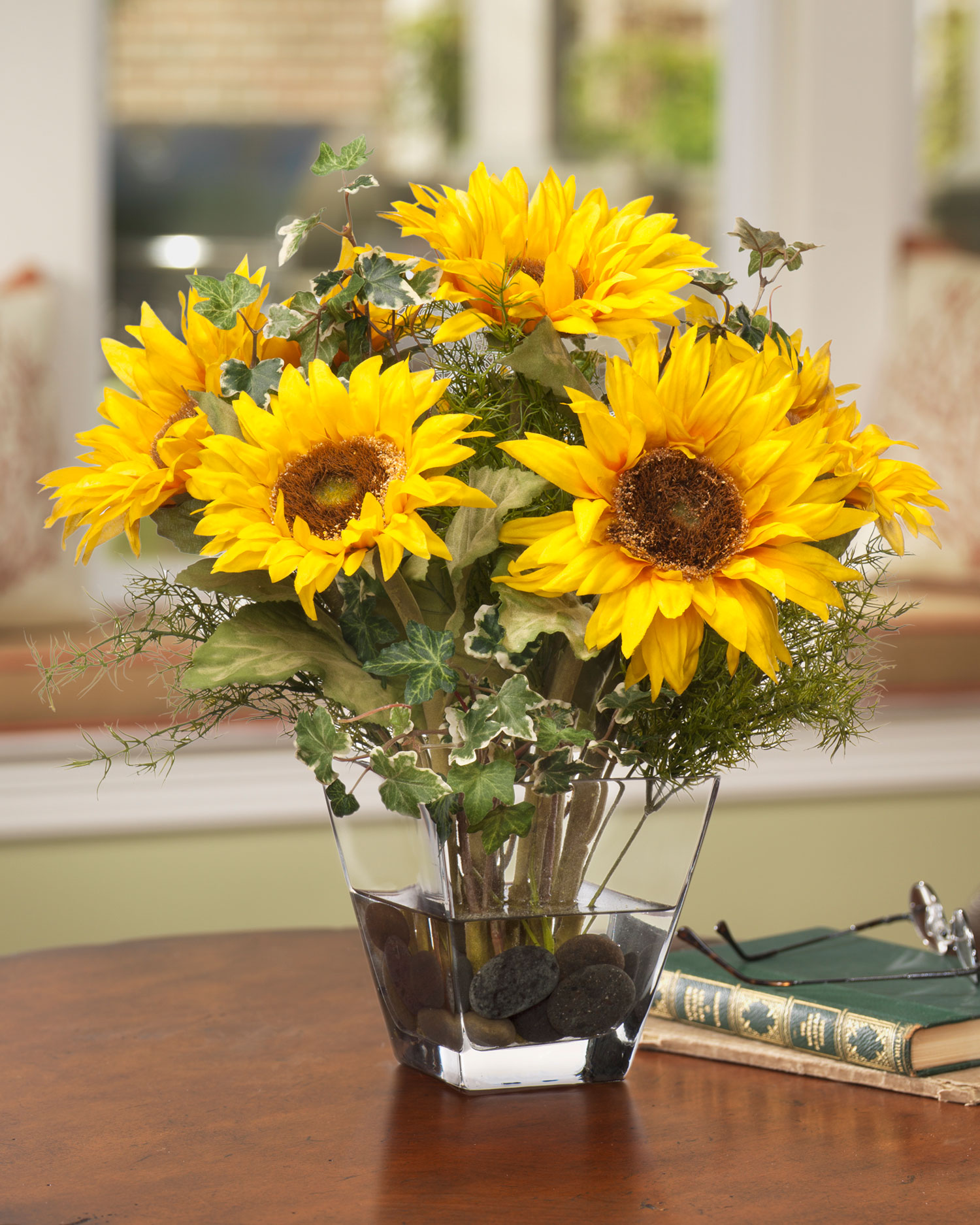 Sunflower Silk Centerpiece - $189
Lotus Blossom & Lily Pad Artificial Flower Arrangement
Create a serene and peaceful atmosphere in your home with this beautiful lotus blossom and lily pad artificial flower arrangement. The delicate pink and white lotus blossoms are complemented by the lush green lily pads, creating a calming and tranquil display. Elegantly placed in a clear glass vase filled with acrylic water for a realistic touch. Perfect for a bedroom, bathroom or meditation space.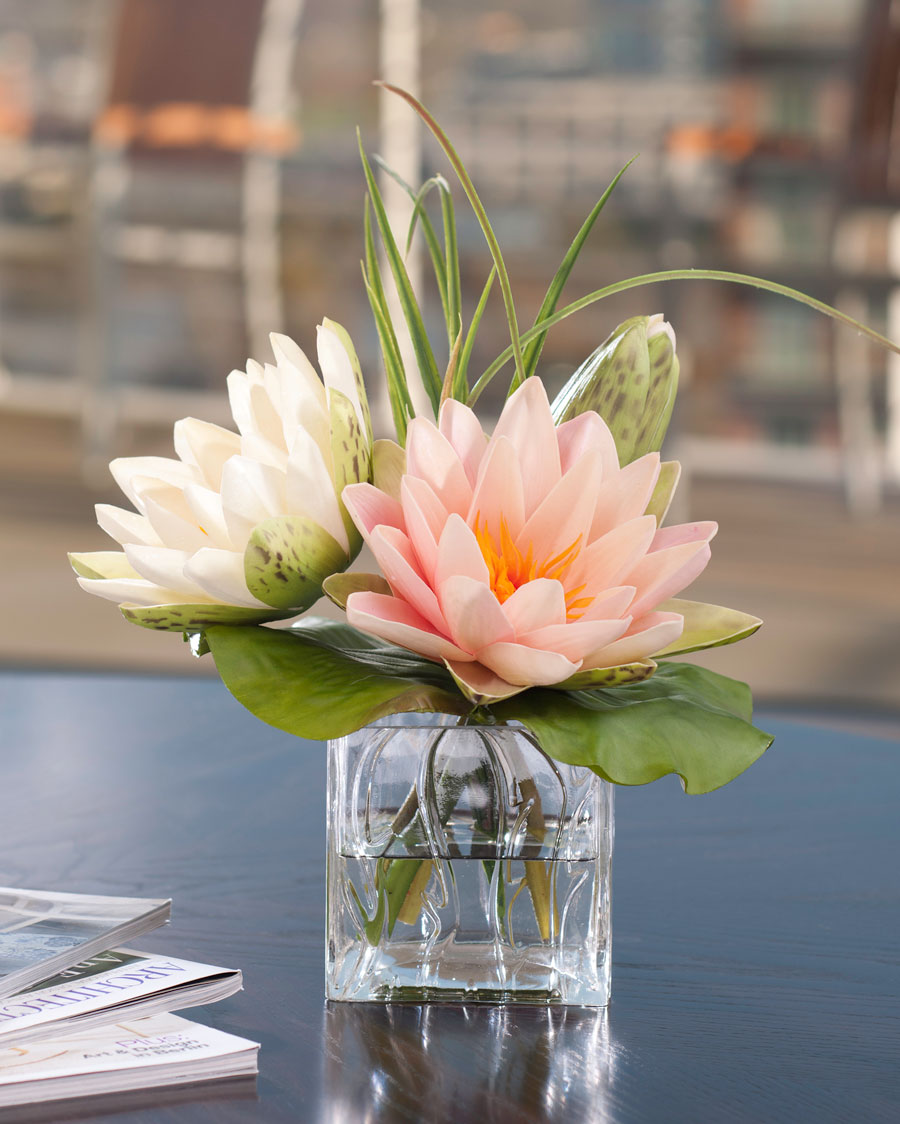 Lotus Blossom & Lily Pad Silk Flower Arrangement
Elegant Magnolias & Orchids
Combine the timeless elegance of magnolias with the exotic beauty of orchids for a stunning artificial flower arrangement. The shallow vase highlights the long stems and a few orchids add a pop of color. This arrangement is perfect for a formal dining room or as a centerpiece for a special occasion.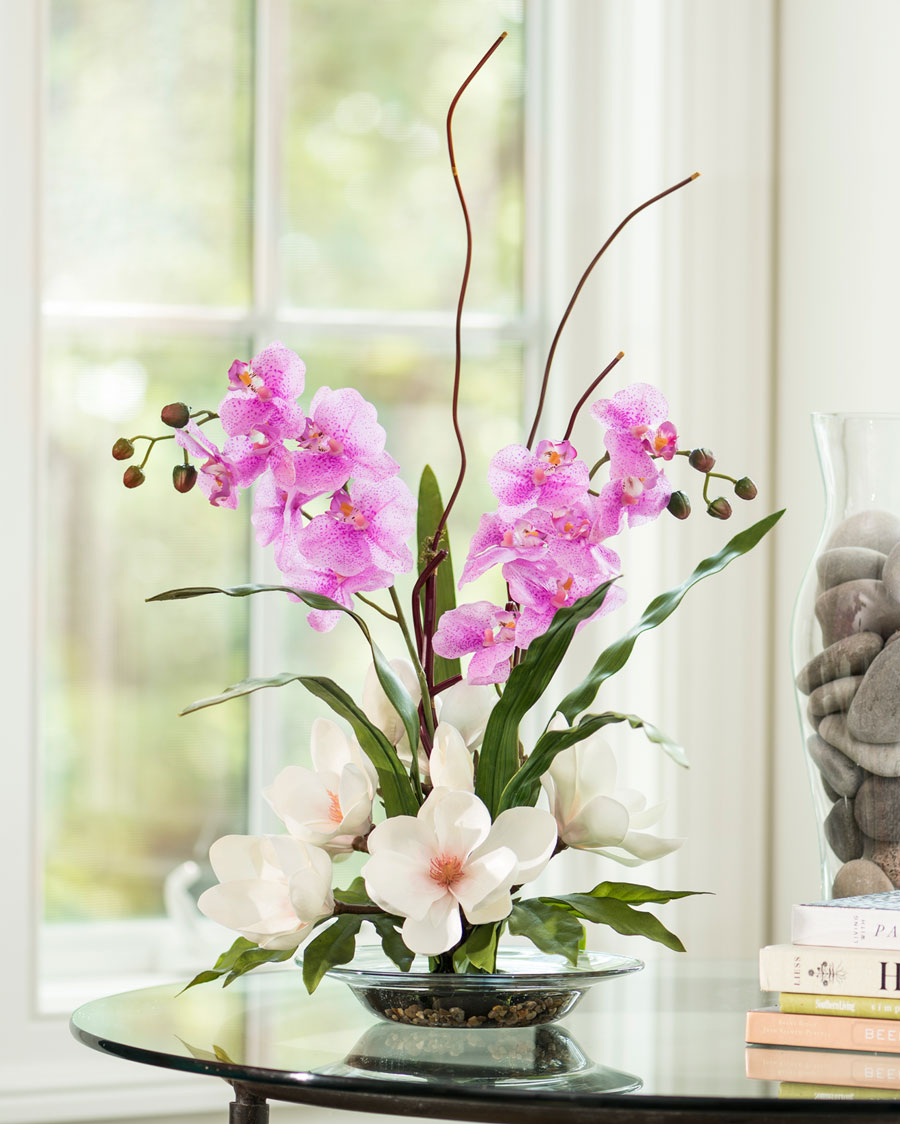 Charming Lily of the Valley Accent
This artificial flower arrangement features the delicate and charming lily of the valley, arranged in a beautiful green and white glazed ceramic vase that resembles a bed of lush grass. The simplicity and elegance of this arrangement make it a perfect addition to any home or as an accent on a bar or kitchen island.
Lily of the Valley Faux Flower Accent - $75
The Perfect Pansy Arrangement
Brighten up any room in your home with the charming Pansy Perfect artificial flower arrangement. Featuring lifelike silk pansies arranged with pebbles in a clear pint mason jar filled with acrylic faux water, this arrangement is sure to bring a smile to your face. The vibrant burst of happy floral color is perfect for country kitchens, sunrooms, and baths. Add a touch of cheer to your day with Pansy Perfect.